At some point in my investing life, I had to take a stand. After a number of twists and turns, starts and false starts in investing, I began to see where life had purposefully led me to. You could call it destiny and fate where one's journey is dictated by a higher power and everything in life is somehow connected. I can't really explain this. I have tried to in my books.
But I am not sure if I have succeeded. At least, I'd like to think that everything has its purpose. Everything has its place and time.
A decade back, I was an investor who loved buying wonderful companies at a fair price. These days, I am that investor who wants to buy fair companies at a wonderful price. What an paradox life can be at times?
If you have had the opportunity to read some of my posts, I will tell you now in no uncertain terms as to why I morphed into a deep value investor.
My returns are compressed in a shorter time frame
My deep value portfolio has returns that have far exceeded the markets and my previous "wonderful companies at a fair price" portfolio
The returns as I have found in my deep value portfolio seemed to be compressed within a shorter time frame. I didn't have to wait years to see visible returns on my portfolio. Another statistic is that 75% or more of the stocks that I have selected will appreciate within the span of a year. This is consistent with Victor Wendl's findings that net net stocks trading trading below the net current asset value tended to move higher within 1 year.
What percentage of these stocks move higher within 1 year?
72.37% of such stocks trading at less than the net current asset value move higher within a span of 12 months. And of course, 27.63% of stocks moved lower over the course of 12 months. What do we make of this statistic?
Simply put, an investor who employs the net current asset value stocks has odds stacked in his favor.
A great investor, Peter Cundill once said:
Investors tend to follow trends and fashion rather that taking the trouble to look for value.
So typically what happens for investors such as myself is that we tend towards stocks that look ugly, stocks that are battered, stocks whose price charts seem like a 45 degree line angled downwards to the right. These are stocks which are typically out of both flavor and favor as deemed by the markets. But to deep value investors, it is junkyards such as these which hold the most promise in time to come.
Peter Cundill also said :
"Ninety to 95% of all my investing meets the Graham tests. The times I strayed from a rigorous application of this philosophy I got myself into trouble."
Case in point. Stick to liquidation analysis and Ben Graham's methods to navigate these very turbulent times and I think you will come out ok.
"If you buy shares trading below their liquidation value and you are patient, over time, you will do very well …" – Peter Cundill
So back to my little journey on investing. Because the individual stocks in my portfolio has gone up, this has affected my portfolio positively. So unexpectedly, over time, I began to morph into somewhat of a deep value investor.
Because I am always on the search for alpha and investment candidates that will perform, I have sort of turned into an international capitalist, scouring the globe for deep value neglected bargains.
Japan is the home of many hidden gems in my opinion. That is one of the reasons why Japan became the go to destination for investing in deep value stocks. For me at least, I have seen and experienced that the deep value strategy does work.
Now with regards to the Japanese markets, they have performed quite well despite global tensions and threats of a looming trade war by Trump and his administration. The Japanese small cap index, TOPIX Small Cap Index has outperformed the S&P 500 Index and in general, the Japanese large caps as well.
Source : Barrons
Although the Japanese Small Cap Index did not perform as well as the Russell 2000 Index, it has performed decently well in 2017 and 2018. ( By the way, deep value Japanese net nets are typically small cap stocks. These are the junkywards from which we find the next 2 – 10 baggers. If you have done your research, you will find yourself agreeing with me. If not, just stick around to find out more. :))
For investors who are still on the sidelines with regards to the Japanese markets. I hope to offer you some information as to why you should consider investing in the Japanese stock market.
Small Caps In Japan Are Less Volatile Than Small Caps In USA
Typically small caps in Japan are less volatile than small caps in the US. For investors who find it hard to stomach volatility, Japanese stocks can be placed under consideration so as to diversify away volatility.
Low Levels Of Bankruptcy
There are low levels of bankruptcy in Japan as compared to US stocks. As such, there is a lower rate of failure of some of these companies.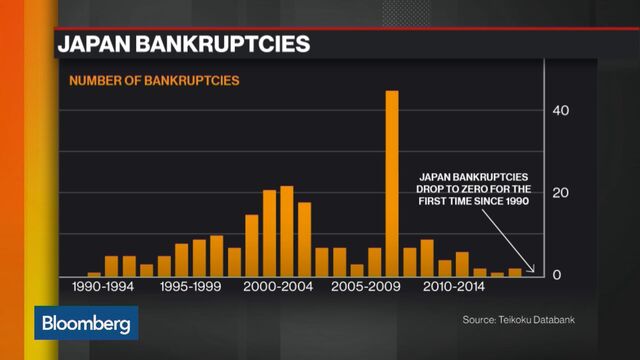 Source : Bloomberg
As per Bloomberg, Japanese bankruptcies have dropped to near zero levels since the 1990's. This is due in part to the companies hoarding lots of cash and also, the Japanese banking culture is such that if there is debt or interest payments due, the Japanese banks are more than willing to extend the debt maturity and allow for a renegotiation of loan terms.
Japanese Small Caps Are Largely Ignored
Japanese small caps are largely ignored by the analyst community who tend to focus on larger and mid cap companies. As such, there is a great number of candidates which trade at distressed valuations without real distress to these entities. That is to say, many of these companies trading at distressed valuations are uncalled for.
Long ago, I have taken a stand on value investing and deep value investing in general. Deep value stocks will continue to do well over time. It is a simple strategy but it is not necessarily easy to execute due to the biases laden within us human beings. After all, we are first human being, and then maybe, an investor. How many of us are really cut out to be a successful investor? And I will be the first to admit that successful investors can have quite unexciting lives! Think Walter Schloss reaching his office at 9.30 a.m and ending at 4.30 p.m. every work day, spending his time looking a value line. This is not something that many of us can do I think.
An investor requires one to stick to his guns even though there are periods of under performance. A deep value investor will not follow trends. He will avoid them at all costs even if it means forsaking the opportunity  to make money today in the short term. For example, I would definitely not buy Netflix at  PE ratio of 200 to 300 today.
Private Equity Inflows To Japan Getting Larger
Japan is known for being a market where one can find deep value, quantitative bargains for the deep value investor. Many of these undervalued companies have high levels of cash on their balance sheet and are largely cash generative and debt free. As such, many of these companies trade below their debt capacity.
Just an example of the top of my head.
Company XYZ has $200 million in net cash and is generating an average operating income for the last 5 years of $50 million and and EBITDA of $70 million. A quick and easy way to calculate the company's approximate debt capacity is to give the EBITDA a multiple of 4 times. As a result, one ends up with a debt capacity of $280 million. Inclusive of the cash on the balance sheet, one can argue that the debt capacity of the company is at least $480 million.
What if the company's market capitalization is $180 million?
Private equity players could easily put all of these debt on the balance sheet and acquire the company with it's very own assets and cash flows. And then, the private equity buyer could delist the company and put the company through a deleveraging process to pay off its debts, and finally relist the company into the public markets at a time when the markets are according generous multiples to the earnings, EBITDA, sales and cash flows. So what have we here finally?
The private equity player who buys the company manages to earn a large profit on the buyout upon relisting the company in the stock markets.
This is what private equity has been doing since the 1980's. Except that in the US, buyout multiples are now at EBITDA multiples of 10 or more. While in Japan, it is possible to buy out companies at an EBITDA multiple of less than 10. So without over thinking things, Japan is going to be a better geography to operate in than in the US for private equity managers.
And this brings me to my point. There are many undervalued entities in Japan which are natural candidates for a buy out, such as Company XYZ above. Perhaps, I will write more about this in another post.
So as you can see from the charts and graphs above, private equity deals are getting bigger and it is getting harder  to ignore Japan. So if you invest in deep value companies in Japan, you can do so with the view that some of the companies that you select are natural candidates for a buy out.
My Book On Japanese Stocks From A Deep Value, Net-Net Perspective
So my closing thoughts on Japan. Japan is a market that should not be ignored if you are a deep value investor. It is a market that offers many hidden gems on display. I have written a number of case studies in my book, The $20 Million Investor Blueprint: Deep Value Net Current Asset Value Stocks In Japan.
If you want to exposed to deep value investing opportunities in Japan, you might want to pick the book up  on Amazon Kindle, be exposed to these case studies and make investing profitable venture for yourself and family.
After all, as Mohnish Pabrai says :
 Mistakes are the best teachers. One does not learn from success. It is desirable to learn vicariously from other people's failures, but it gets much more firmly seared in when they are your own.
So, be sure to learn vicariously from the experience of others. As always, may you be blessed with prosperity, health and happiness!
Read also:
Junkyard Net Nets From Japan : Leader Electronics Corporation 6867 > 100% Profit In 6 Months